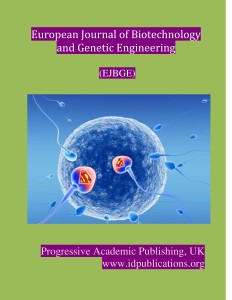 European Journal of Biotechnology and Genetic Engineering (EJBGE) ISSN 2397-2076 is a peer-reviewed research journal published by Progressive Academic Publishing, UK.  For this journal we accept manuscripts in the following areas:
Recent developments, applications and analyses related to genetic engineering and biotechnology in humans, animals and plants (including crops), Animal genetics, Plant genetics, Healthcare and Pharmaceuticals, Food and Agriculture, Biofuels, Genetic Engineering and Molecular Biology, Genomics and Synthetic Biology, Nanotechnology, Environment and Biodiversity, Biocatalysis, Bioremediation, Process engineering, Bacterial enzymes, Agricultural Biotechnology, Biochemistry, Biophysics, Bioinformatics, Environmental Biotechnology, Industrial Biotechnology, Microbial biotechnology, Medical Biotechnology, Bioenergy, Biosafety, Biosecurity, Bioethics and other areas related to biotechnology and genetic engineering. 
Indexing: This journal is indexed with the following database: Google Scholar, ROAD Directory of Open Access Scholarly Resources, UK, Cabells Directories, USA, EBSCOhost, Gale's Academic Databases, Open J-Gate, PKP Open Archives Harvester, ProQuest, Sherpa/Romeo, Ulrich's Periodical Directory.
How to Submit Manuscripts:
Manuscripts typed on our article template can be submitted through our website. Alternatively, the manuscripts can be sent as an email attachment to: editor@idpublications.org
Progressive Academic Publishing
Email: 

e
ditor@idpublications.org