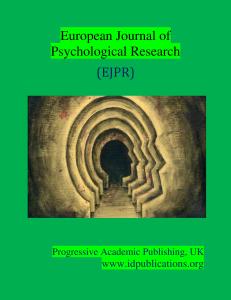 European Journal of Psychological Research (EJPR)  ISSN 2057-4746 is a peer-reviewed research journal published by Progressive Academic Publishing, UK.  For this journal we accept manuscripts in the following areas:
Behavioral Sciences, Client-Centered and Experiential Psychotherapy, Clinical Health Psychology, Clinical Mental Health Counseling, Clinical Psychology, Community Counseling, Counseling Psychology, Counselor Education & Supervision, Depression, Educational Psychology, Emotions, Forensic Counseling, Forensic Psychology, Happiness, Health, Industrial Organizational Psychology, Learning, Learning Theories, Marriage & Family Therapy, Mental Health Counseling, Mental Processes, Observational & Experimental Methods, Personality, Psychiatry, Psychoanalytic Psychology, Psychopharmacology, Psychotraumatology, Sport-Exercise Psychology, Intelligence, Memory, Cognition, Teaching strategies, Learning methods and other areas related to Psychological Research.
Indexing: This journal is indexed with the following database: Google Scholar, ROAD Directory of Open Access Scholarly Resources, UK, Cabells Directories, USA, EBSCOhost, Gale's Academic Databases, Norwegian Social Science Data Services (NSD), Open J-Gate, PKP Open Archives Harvester, ProQuest, Sherpa/Romeo, Ulrich's Periodical Directory.
How to Submit Manuscripts:
Manuscripts typed on our article template can be submitted through our website. Alternatively, the manuscripts can be sent as an email attachment to: editor@idpublications.org
Editor-in-Chief
Progressive Academic Publishing
Email: 
editor@idpublications.org