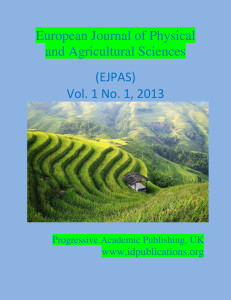 European Journal of Physical and Agricultural Sciences (EJPAS) ISSN 2056-5879 is a peer-reviewed research journal published by Progressive Academic Publishing, UK. For this journal we accept manuscripts in the following areas:
Artificial Intelligence, Architecture, Astronomy, Chemistry, Design, Earth Science, Ecology, Marine Sciences, Physics, Space Sciences, Computer Sciences, Mathematics, Statistics, Systems Sciences, Applied Physics, Ceramic Engineering, Computing Technology, Electronics, Energy, Environmental Engineering Science, Engineering Physics, Environmental Technology, Fisheries, Forestry, Materials Engineering, Microelectronics, Nanotechnology, Nuclear technology, Optics, Transportation, Agricultural Engineering and other areas related to Physical and Agricultural Sciences.
Indexing: This journal is indexed with the following database: Google Scholar, ROAD Directory of Open Access Scholarly Resources, UK, Cabells Directories, USA, EBSCOhost, Gale's Academic Databases, Open J-Gate, PKP Open Archives Harvester, ProQuest, Sherpa/Romeo, Ulrich's Periodical Directory.
How to Submit Manuscripts:
Manuscripts typed on our article template can be submitted through our website. Alternatively, the manuscripts can be sent as an email attachment to: editor@idpublications.org
Progressive Academic Publishing
Email:

editor@idpublications.org